I wasted spent the whole day attending Macromedia MAX 2005 at Meritus Mandarin Hotel. It's basically one huge product plug for Macromedia with talks by various Flash designers. I attended the Designer Track, which costs S$120 for students (paid for by the school), with four other guys. Today's line-up for the Designer Track consists of Marcos Weskamp, Drew Trujillo and Joshua Hirsch, the Minister of Technology at Big Spaceship. (By the way the pictures are devoid of audience because I took them during break times)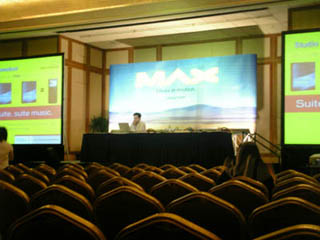 I was most impressed with Mr. Weskamp's work on using Flash to present complex data graphically. His Social Circles project uses circles and lines to represent activities within a mailing list, allowing you to very easily visualize who in replies to who and who talks the most. The Newsmap is also a very impressive program that generates a colour-coded table based on Google News feeds and resizes different cells according to the importance of the news topic. Thus, the user is able to compare how different countries (based on the selection available on Google News) place different importance on different types of news. The algorithm used to resize the cells is very advanced. His latest work, the Flickr Graph is also quite neat. His presentation was the only one that I really enjoyed. Oh yeah, he studied in Tokyo and is currently living in there.
The live demo of Macromedia Flex during the keynote speech was pretty intriguing too. The use of "states" instead of a timeline with keyframe makes it much better for application development. Damn, almost everything uses XML to parse data and provide API for 3rd party applications these days.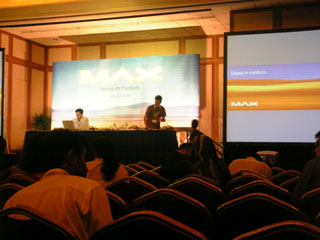 It appears that Macromedia is quite serious about making Flash an all-purpose tool for interactive applications and user interfaces…but I think they need to implement full 3D rendering support for that to happen. They are also pushing Flash Lite quite strongly but I've yet to see a fully working commercial Flash Lite application…even though my phone supports it.
One more day tomorrow…