To Heart 2 is a visual novel originally released for the PS2 under the Aquaplus brand name. The transition to PC adds 18+ content and falls under Leaf, essentially the same company by a different name (for their adult titles).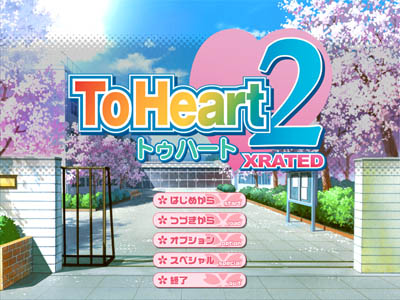 It's very loosely related to the original To Heart, one of the games which Leaf is best known for. Other flagship titles by Leaf include Comic Party, Utawarerumono and Tenshi no Inai 12-gatsu.
A visual novel refers to a specific sub-genre of AVGs where the text is superimposed over the art instead of occupying the bottom half of the screen. Leaf was the first to employ such a system and it continues to be part of Leaf's unique style. As far as I can tell, this arrangement has no real advantage over the textbox used by most games on the market, so you can say that it's purely a personal preference whether you like it or not. It does obstruct the art, but you can hide the text anytime. And I suppose such a system allows the script to be, as the name suggests, closer to an actual novel (albeit one with a lot of dialogue). Other companies have also released visual novels subsequently, although it remains a minority sub-genre. Crescendo was quite a memorable non-Leaf visual novel for me.
Gameplay is limited to the typical dialogue and location selection. As with most games, each location is marked by a chibi avatar of the character whose event you trigger if you go there. Pretty much standard fare.
There are many girls to choose from and each one of course has her own backstory. Unlike games like Air or Shuffle!, there is almost completely no supernatural elements in the game so the stories revolve mainly around your daily school life with the girl and her sad-and-tragic past / dark secret / promise to go to Toudai together / whatever. Nothing that will be out-of-place in a normal high school romance drama.
Well, other than that one maid robot in the game. The single difference between the To Heart universe and ours is the existence of maid robots. But we all know that it was all just an excuse to have Multi in the original game. For continuity's sake, TH2 makes occasional references to maid robots and even has one as a minor character.
Character-wise, almost every stereotype is well-covered here. Please note that I have only completed the paths for Tamaki and Yuma.
Konomi is your neighbour and childhood friend and a bit too loli for my taste. She's also whiny and noisy, often mistaken for cuteness. She's supposedly the heroine for this game, but whatever.
Tamaki is the goddess and she owns my heart and soul. <3 She's also your childhood friend (or rather, the childhood bully) and the elder sister of Yuuji. She's older than the main character by one year. She recently transfered to your school after spending seven years in an all-girls boarding school located in some remote mountain area that is two hours of bus ride away from the nearest town (I kid you not). The main character calls her "Tama-nee".
Karin is some weirdo girl who tricks you into joining her "Mystery Club" (which has only two members. Including you) and possibily attempt to seduce you during those quiet club meetings when you are all alone with her in some old PE storeroom cum clubroom. Actually, I won't know since I didn't play her path. Her hair is a mystery best left unexplained.
Sango and Ruri are the obligatory twin loli-sister combo. Get two for the price of one. Well, three actually if you include the maid robot. Beh. The twins also speak with an annoying kansai accent. (My personal opinion. There are probably people who like it. You weirdoes)
Yuma is your sworn enemy at school. She challenges you to everything and loses everytime, but she never admits defeat. (これで勝ったとは思うなよーっ!) She also wears spectacles occasionally to please the meganekko crowd. My second most favourite character in the game, though quite a distant second from Tama-nee.
Lucy is the mysterious-type girl with a funky foreign name and she "talks" to animals. I'm somewhat interested in her story, but I'm not sure if I want to play through the game again.
Manaka is clumsy and shy in a really annoying way. I hate that. But most people seem to like her. Another mystery for Karin.
Sasara is a new character introduced in the PC version. She's the president of the student council and is one year older than you. She's cool (in the tsuntsun way).
Yuuki is some mysterious girl you meet in school at night. Whatever.
The ero-scenes added in the PC version are drawn in a noticeably different (arguably better) CG style from the rest. There is only one scene per girl (Himeyuri twins count as one) and they are all fully-voiced.
One interesting bit to note about the game is that it retains the PS2 original cast (credited under pseudonyms), which means that Hitomi Habatame (Mikoto from School Rumble, Yuuna from Maburaho, Aruceid from Tsukihime) still voices Yuma…… Mikoto/Aruceid fans, you know why you should play this game. <_<
As I mentioned, I've only played through Tamaki and Yuma's paths. Despite the fact that pretty much nothing happens throughout the game in good old To Heart fashion, the script is somehow quite well-packed. I would even go a step further and say that it's quite well-written too. But that's probably just my inner Tamaki fanboy speaking since I really loved the confession scene for her path. <3
Of course, if you've completed the game a few times and find that the other girls don't interest you (like me), there're two minigames that can keep you entertained… for a little bit.
Super Sweets Scramble is vertical scroller. You can choose to play as any of the girls whose ending you have unlocked in the main game (except Konomi, who is unlocked right from the start). Each of them has a different special attack so I suppose this is somewhat of an incentive for you to play through all the endings… or you could download a complete saved game.
The rounds are time-based and you try to rack up the highest score within a round. Essentially there's not much game content since you replay the same stage over and over again. Gets old sort of fast.
Dokidoki Panic Library is an average match-those-colours puzzle game. Nothing much to say.
Objectively speaking, To Heart 2 offers nothing new or creative and belongs to a subgenre that has been done to death. Well, I really only got this game for Tama-nee, so I'm quite satisfied with it. If you read through my character introduction and find that none of the girls seemed interesting, then you should probably stay away from this game. There isn't much of a story to keep you entertained if you don't like the characters.
And to end off my horribly-biased review: