Comiket 70 day one has ended just a few hours ago. Since Shingo from HD has yet to post his report, here's a little something for those of you out there with nothing else better to do than to wait (like me)… It's a bunch of screencaps taken from a TV program covering the 70th Comic Market.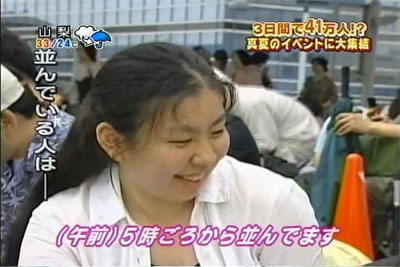 Top right corner: 410,000 people over 3 days!? The massive gathering at this summer event.
Left: This person in the queue…
Bottom: …has been queuing since 5 am.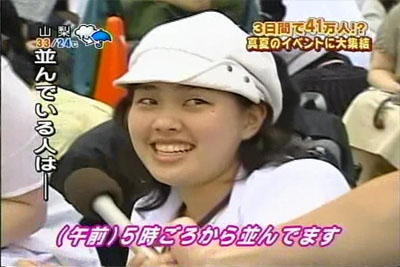 Same as above.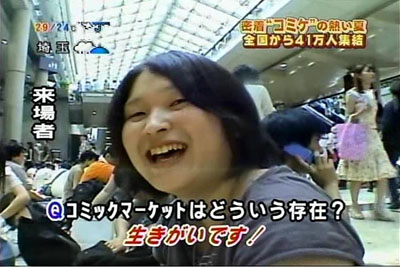 Top right: A hot summer of "Comiket". A gathering of 410,000 people from all over the nation.
Left: An attendee.
Bottom: "What is does Comic Market mean to you?" "It's what I live for."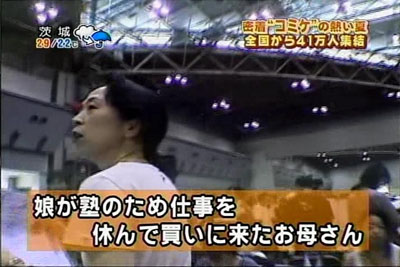 And the most WTF of them all…
Bottom: A mother taking leave from work to buy things for her daughter who is having tuition.
Wow. Japanese mothers are so cool that they take leaves to buy yaoi pr0n for their daughters. o_O Either that or she's actually buying it for herself… DUN DUN DUN!!! I think one can write a few thousand words worth of social commentary base on this picture alone. Seriously. Only in Japan folks.
And for those of you who are wondering why they don't queue overnight, well I can assure you that it's not because they are not hardcore enough; it's against the rules to do so. Comiket bouncers are kowai… I'd imagine.
Now back to refreshing Heisei Democracy…