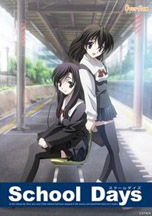 Here's an update to the announcement for the upcoming anime adaptation of School Days. While it is not stated on the image, it appears, judging the from lighting and layout, to have been taken during the Tokyo Anime Fair 2007 which just ended on Sunday.
The series will start airing in July on Chiba TV and will contain a total of 13 episodes.
Director: Keitarou Motonagake (Yumeria, To Heart: RMM, GetBackers, Amaenaideyo!!)

Series Composition / Script: Makoto Uezu (Utawarerumono, Ah! My Goddess S2, Amaenaideyo!! S2)

Character Design / Overall Art Director: Junji Gotou (original character designer for School Days)

Animation Production: TNK (Kyoushirou to Towa no Sora)

Production: Marvellous Entertainment Inc.
Nothing unexpected, though I can't say that the staff list so far instills much confidence. Well, I guess it will probably be fine if they remain faithful to the game…
TVシリーズは全13話構成で、原作のどれかのエンディングを再現するのか、アニメオリジナルになるのかは不明だけど、何らかのバッドエンドになるのは確定だそうで。
According to the above line from Moon Phase Zakki, it is still not confirmed whether the ending will follow one of the paths from the game or a original anime path. But apparently, it will be a bad ending. (WTF? I hope it's just rumours.)
[ Source: ASCII.jp via Moon Phase Zakki ]