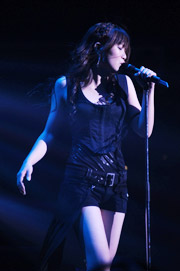 I am helping AFA08 compile a list of questions from fans in Singapore (and other English-speaking countries) to send to May'n. She has gracefully agreed to answer them through email correspondence.
I will be sending the questions in both English and Japanese and the event organizers will help to edit and forward them to May'n. I will be translating her replies and the final result will be posted in both languages on the official website.
So, if you have anything you want to ask May'n, please submit your questions through the form on the official site. The deadline is Wednesday, 22nd October 2008.
UPDATE: The interview is up on the official site.