I attended Cosplay Quest 2006 held at Cineleisure today. Long story short: it was somewhat disappointing. I did get to take a picture with a Haruhi cosplayer, though.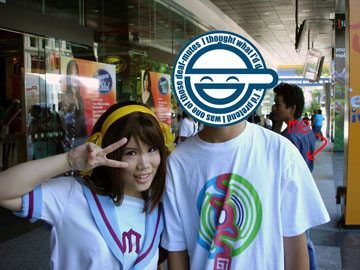 That's how I look like IRL. No, really. Yeah, I was the guy walking around in the SOS-dan T-shirt.
Long story long:
I met up with tj han, tsubaki, bj0rn and zima (from SOS-dan @ rizon) at the event. We had a lunch break just after the individual round and stayed till the whole thing was over.
I was standing quite far from the stage and almost everything was taken with at least 2x zoom freehand. I fail at photography.
Generally speaking the costumes were on par with the recent Cosfest but unlike Cosfest there wasn't any particular costume that I really liked.
The event is divided into individual and team rounds, with some performances in between, such as Mizuki performing "Endless Story" just like she did during Cosfest. You can see a bit of her Cosfest performance here.
The cosplay competition itself was pretty meh. The emcee wasn't doing a good job. She couldn't really engage the contestants and her attempts at humour made me cringe. At least the Cosfest guy sounded like he's in the emcee business, sarcastic asshat as he may be.

The highlight of the show was probably when the guy cosplaying as Ichigo from Bleach took the mike, pointed at one of the judges with his sword and said, "If I don't win, you'll be the first." (or something to that effect…) He ended up second. And there was also a guy who went up the stage and started singing the theme song from a last-century sentai show at the top of his voice. o_o
Apparently tj han was looking forward to meeting Lenneth, the Saya cosplayer from Cosfest, but he forgot to ask for her contact number and didn't manage to bump into her. He claims that he's fine, but we all know that he's very disappointed. :( Well, I'm sort of disappointed too. :(
On another note, Haruhi didn't take part in the competition and left the place quite early. Probably because there weren't any aliens, time-travellers and ESPers around.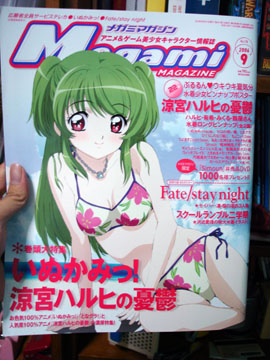 After the event, we went to Kinokuniya. It's currently having a 20% discount for members. I picked up two volumes of Hayate no Gotoku and almost bought the latest issue of G's Magazine. Then we headed down to Sunshine Plaza where I accidentally purchased the latest issue of Megami. We sat down on the comfortable couches in Kare Kano no Mise and wasted the rest of the time away talking about everything from figurines, seiyuu to tj han's hidden lolicon tendencies…
P.S. I hadn't bought an issue of Megami in a long time, but this issue is… special.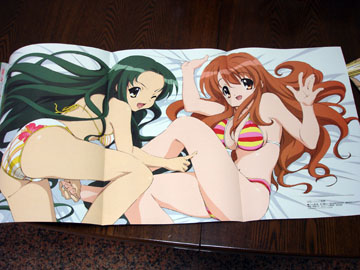 I still hate them folds though.