Okay, so this is supposed to be an anime blog. Theorectically. But sometimes there are more important things in life than anime, such as finding out the identify of this duck-like bird that has been catching my attention every time I walk past it on the way home for the past few weeks.
So anyway, I've been meaning to take a few shots of this bird for a while. It's the only one of its kind that I've seen around my neighbourhood. I don't think anyone is rearing it but somehow it's been surviving perfectly fine, even though I'm pretty sure there isn't much to eat other than grass.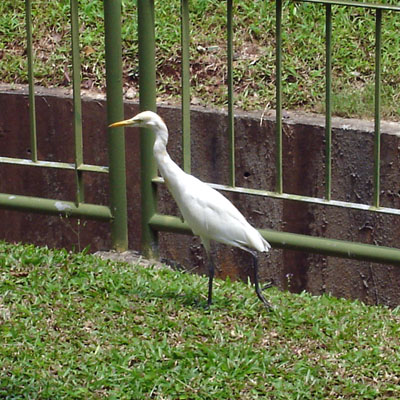 It can been seen strolling leisurely under the MRT train tracks in daytime, doing absolutely nothing. I'm pretty sure it can't fly.
I happened to have a camera with me today, so I took the opportunity to close it for a few shots. Unfortunately the duck(?) thingy detected my presence almost immediately and broke off running (if you can call it that)!
In fact, it ran across the road in record time and happily settled itself down right between the two traffic directions.
I could feel its gleeful stare as it mocked me from its safe zone.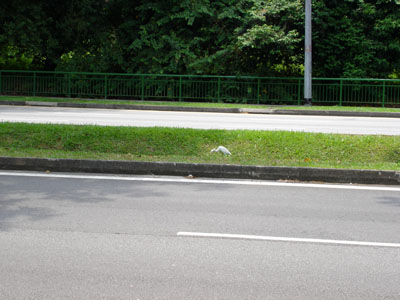 I considered setting up an ambush back at this side of the road, but decided that it was a waste of time and the bird probably doesn't taste good anyway. I kept my camera and left the bird to enjoy its daily stroll in peace. I'll get you next time, stupid duck thingy!
As you can tell, I fail at biology. Could anyone out there please tell me what kind of bird this is? Is it some kind of duck? If it's a duck, what kind of duck is it and why are its legs so long? Is it edible and tasty?
Okay, I just wasted five minutes of your life, didn't I?
.
.
.
.
.
.
.
.
.
.
.
.
.
.
.
And here's Haruhi cosplay to make up for it!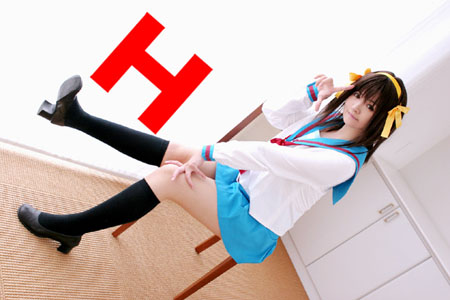 See, now this post is anime-related. :)