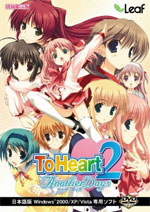 Sort of. The game doesn't go on sale officially until the 29th, but Sofmap and other other shops are getting their stocks (more than 100,000 copies nationwide) today, and all new CDs and game releases are "out" the moment one of the otaku employees sneaks a copy home and uploads it onto Share.
ToHeart2 AnotherDays is a sequel (with new characters) to the popular visual novel ToHeart2, which in turn is a spin-off from the not-as-popular cult favourite ToHeart. It was announced more than a year ago in 2006 and will finally be out on Friday. As you should know, I am a certified Tama-nee fanboy, so this makes me quite :) (And if you didn't, now you do.)
And the best thing in this game, not counting a new story path for Tama-nee because she obviously bulldozes the competition, is that Maaryan-senpai (with her awesome kick) is now a kouryaku character. Woohoo! This will be awesome! My copy is being delivered to me by magical electronic pixies via the intertubes now.