Exams are finally over. Woohoo. Well I still have a Computer Elective paper on Monday, but that doesn't count.
Anyway, I've been quite broke since I placed that preorder for Da Capo II… so I've been curbing (or at least trying to curb) my spending for April.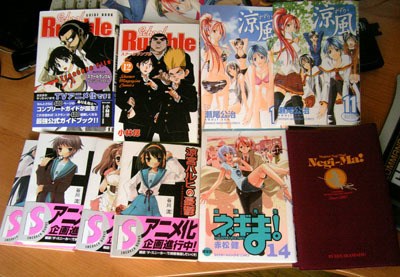 School Rumble Guide Book – Treasure File
School Rumble Vol. 12
Suzuka Vol. 11 Limited Edition
Suzumiya Haruhi novels 1 to 4
Mahou Sensei Negima! Vol. 14 Limited Edition
Negima! Vol. 14 Limited Edition came with a nice fake-leathery book cover that fits all Kodansha tankoubon, which is great because I always destroy my books. Of course the limited edition also cost about 3 times the normal price but that's besides the point.
Suzuka Vol. 11 was good, really good. I can't wait till the next volume. The limited edition bonus consists of 2 special cover designs and 2 postcards. The sad thing is that they didn't include the normal cover… Well the normal cover sucks anyway. (Yasunobu + Whatsherface? Yuck)
See, I didn't spend much for April… Other than those books, it's just my regular monthly issues of Comptiq and Newtype, my preorder for Da Capo II, my preorder on CDJapan for Maaya Sakamoto's new single and D.C.II OP-ED single and my preorder for this and this (Saber <3)…
……Okay, maybe I fail at this money-saving business. But hey, this is still nothing compared to moyism. (hint: those numbers are in USD)
And yes, he is my role model in life. XD
P.S. I want to preorder this too.
O……| ̄|_